The Lord Mayor of Exeter, Cllr Mrs Lesley Robson, has helped mark the 80 years of flying at Exeter Airport by unveiling a celebratory plaque which will be mounted in the terminal building.
The ceremony was held almost 80 years to the day since the then Mayor of Exeter, Alfred Anstey, opened the airport on 31st May 1937 and met the first commercial flight, a Jersey Airways DH 86 Express biplane airliner.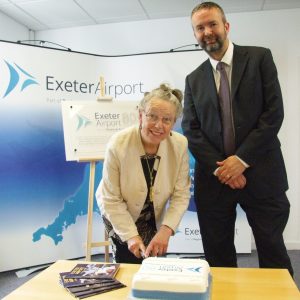 The unveiling of the plaque by the Lord Mayor at the XLR Executive Jet Centre, the airport's corporate aviation facility, was followed by the cutting of a specially prepared 80th birthday cake.
The Lord Mayor said: "I'm delighted to be marking Exeter Airport's 80th birthday. Not only is the airport a major employer for the city but it has been a huge catalyst for growth and investment in our region, ensuring that local people and industry can connect to the rest of the UK and around the world."
Exeter Airport managing director Matt Roach added: "We are honoured to have the The Right Worshipful the Lord Mayor of Exeter here to mark the 80 years of flying and to celebrate the contribution Exeter Airport makes to our city and the region's economy. Having seen 20% growth in just five years we are determined to build on that success and offer even more choice to our leisure and business passengers."
Exeter Airport has operated through years of war and peace and now serves over 40 destinations and handles more than 40,000 aircraft movements a year. Last year saw almost 850,000 passengers pass through the airport, marking a fourth year of successive growth.
Today the airport employs 300 people directly and supports some 3,000 local jobs, and contributes an estimated £150 million a year to the local economy. Back then the airport consisted of a tented terminal with a grass airstrip marked by a 100-foot diameter chalk circle with the word 'Exeter' written in 16-foot high letters. Destinations included Jersey, Plymouth and Cardiff.
The airport's early years are documented in the history section of the About Us page of this website.