Leading cancer charity is charity of the year for 2016
Exeter Airport has chosen the UK's leading cancer charity; CLIC Sargent, as their charity of the year for 2016.
Exeter Airport's members of staff voted to support CLIC Sargent this year as they wanted to help families in the area who are affected when a young person has been diagnosed with cancer. During the airport's association with the charity over 800,000 people will travel on 40 routes and there will be giving opportunities whilst the passengers are in the catering and retail areas of the airport.
The airport be promoting local fund-raising events to support CLIC Sargent and highlighting the work of the charity, which has a goal of supporting every child and young person that needs support after a childhood cancer diagnosis.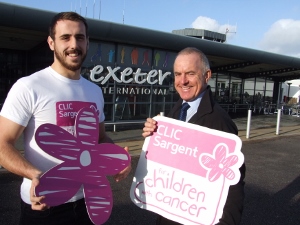 Stephen Ayres, Communications Manager at Exeter Airport said, "We are pleased to be working with the charity in 2016 and our staff are very keen to be involved in helping with CLIC Sargent's fundraising efforts. Our passengers are also invited to use the collection boxes in the terminal and donate to the charity when using the airport this year."
CLIC Sargent Community Fundraising Manager Joy Morley said: "We are so excited to have Exeter Airport on board. The partnership is shaping up to be very exciting with involvement in various campaigns throughout the year, and staff from the Fire Department have already signed up to Rock Solid Mud Run in Exeter this March. With a planned calendar of events, this partnership will be plane-sailing!"
CLIC Sargent currently supports around 132 children and young people in Devon, whose families will have to travel an average round trip of 109 miles to the Bristol Royal Hospital for Children to receive treatment. Once there, families are provided with free self-catering accommodation to help keep the financial costs to a minimum.