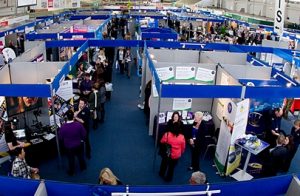 Exeter Airport will attend The South West Business Expo on 30 March in Exeter to discuss the airport's routes and connectivity with the region's business community.
Exeter Airport saw its fourth successive year of growth in 2016 but the aim is to encourage more passengers to travel to range of destinations and to stimulate business travel with continued route development work at home and abroad.
The airport was used by 847,372 passengers in 2016 which is up 3% on the previous year when the 800,000 passenger mark was reached for the first time since 2009.
Exeter Airport is working closely with the region's business community and regional trade missions will continue as the airport focuses on new opportunities including more connections to hub airports.
A fourth daily Manchester service is now on sale and Exeter has frequent services to Belfast, Dublin, Edinburgh, Glasgow, Guernsey, Jersey, London (City), Newcastle and Norwich. The Manchester hub has connecting services to other UK destinations and with Flybe's international partner carriers. Other links to Europe are on the daily flights to Paris and Amsterdam.
The South West Business Expo at the Matford Centre on Marsh Barton, which is probably the largest business exhibition in South West, is FREE to attend and offers visitors the chance to network and gain free business advice and support from local organisations and speakers.