The arrival at Exeter Airport of a Hurricane and Spitfire along with a Lancaster of the Battle of Britain Memorial Flight (BBMF), which was to have been witnessed by supporters of the South West Airfields Heritage Trust, was cancelled due to due to bad weather on Friday (26 August 2011).
The Trust is in the final stages of their Exeter Airport Heritage Project; a project to erect a larger-than-life statue of a fighter pilot at the front of the terminal to promote public awareness of the airfield's role during WWII.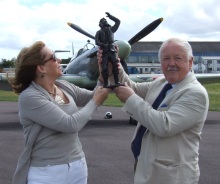 A bronze maquette has already been produced by East Devon sculptor Frances Margaret and during the BBMF Hurricane and Spitfire visit earlier this month (Sunday 14 August) she presented the scale model of an airman to the Chairman of the South West Airfields Heritage Trust, Graham Weller (right).
Mr Weller said: "We are very pleased to have been able to interact with Frances throughout the project in her studio at Otterton.  She is now working on the finishing stages of the final work before the sculpture is made ready for the foundry, so this is a very exciting time."
"We are still appealing for donations for the informative plinth on which the Battle of Britain hurricane pilot will stand at the front of the airport but we are very grateful to all those who have donated so far."
RAF Exeter played a major wartime role; including the Battle of Britain with three fighter Squadrons taking part operated by pilots from many nations. During that brief period twenty-two pilots lost their lives.