Staff from the Royal Albert Memorial Museum (RAMM) have visited Exeter Airport and used airport x-ray equipment to see inside a 2,000 year old urn found during a recent dig in Cullompton.
A vessel too big for the museum's x-ray machine was brought to Exeter International Airport on 10 February and security staff used the state-of-the-art cabin baggage x-ray equipment to scan the vessel and examine its contents.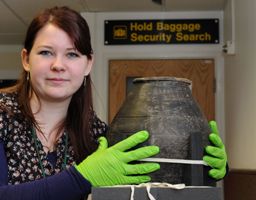 The x-ray confirmed the vessel was used to contain cremated human remains for burial and Kirstie Williams (pictured) will now excavate the find.  The soil in the urn contained a mass of dense material thought to be ash from the cremation and near the bottom of the vessel were several mysterious 'curved' shapes. These are thought to be larger fragments of bone, or possibly metal objects.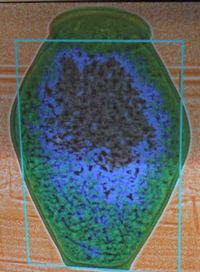 The discovery of the vessel happened during construction work in central Cullompton. A Roman fort at St Andrews Hill in Cullompton, which was abandoned around the mid-70s AD, was discovered in 1984. This new discovery is evidence that the Roman's occupation was much more extensive and continued from the 1st century until the late 4th century. The excavation has revealed a large quantity of pottery and given tantalising glimpses of evidence that there was a Romanised building with a hypocaust (under-floor central heating) and stone floors nearby. There are very few known Romanised buildings in Devon outside of Exeter.