Rigby Group Airport Management Division Acquires Bournemouth Airport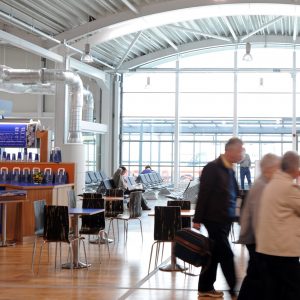 Regional & City Airports (RCA), the airports management division of Rigby Group plc, has completed its fourth regional UK airport acquisition with the purchase of Bournemouth Airport for an undisclosed sum – underlining the group's ongoing intent to being a significant player in the UK's vital regional airports market.
Adding another operation to a portfolio that already includes Exeter, Norwich and Coventry Airports, as well as contracts to operate Solent (formerly Daedalus Airfield), City of Derry and Blackpool Airports, today's purchase of from Manchester Airports Group further expands a network of growing passenger and commercial aviation facilities across the South of England, creating a combined entity capable of offering passengers throughout the South a highly credible alternative to the major London airports.
Group Chairman and Founder Sir Peter Rigby said: "The acquisition of Bournemouth Airport represents an important landmark in our strategy to create a robust and credible group of regional airport assets and services across the UK. Not only does it expand our catchment to include the major regions of South England, but also focuses operations on a core market poorly serviced by the major aviation players."
Already employing more than 600 people across the UK, RCA has built a reputation as efficient, safe and commercially-astute airport operator, driving improvements to route development, commercial revenues, operating costs and capital investment in order to deliver a consistently sound commercial return, leveraging significant buying power and shared expertise to deliver tangible benefits to small airports across the UK.
RCA Chief Executive Andrew Bell said: "I am delighted to welcome everyone at Bournemouth Airport to our fast-growing team. It is already one of the South's flagship aviation hubs, and I am very much looking forward to working with the staff and management as we continue to expand its operations and build on that success."
Day-to-day management of the adjacent 200-acre Aviation Business Park will be handled by Rigby Real Estate – the parent group's specialist property management division.
Bournemouth Airport currently offers flights to 22 destinations across Europe, with 700,000 passengers using the airport in 2016. A base for Ryanair and TUI, the facility has undergone a £45m investment – providing air travellers to and from the South Coast region with a new and greatly improved passenger experience – and supports 900 full time equivalent jobs contributing more than £24 million to the local economy.
With the takeover complete, RCA now plans to help grow both commercial and passenger activity at the airport, leveraging the group's scale, contacts, and expertise to power continued progression. The group recently recorded its best ever year in the year to March, handling 1.7 million passengers with 189,000 flight movements connecting directly to over 60 destinations across its operations.
Steve Rigby, Rigby Group COO, commented: "While already a well-run and robust operation, Bournemouth Airport is ripe for growth. Growing demand for both UK and International flights in nearby Southampton offers significant scope to increase passenger numbers, while the site's potential as a regional business hub also represents a clear opportunity for expansion. We're here to do business, and have already reached out to key regional stakeholders with a view to driving forward to growth of the airport.
"As part of RCA, the airport will benefit from the economies of scale and sharing of best practice normally only available to larger hub airports – providing job security for existing staff and opening up a range of exciting new opportunities for both the facility itself and the region as a whole."
Charlie Cornish, Chief Executive of MAG, added: "Bournemouth Airport and its people have been part of our company for a long time.
"RCA has a detailed integration plan in place to ensure a seamless transition of ownership and operations at Bournemouth which will maintain business as usual for passengers and customers.
"We wish the new owners every success and are confident that the airport will continue to flourish as we continue to focus on improving Manchester, London Stansted and East Midlands airports."