Members o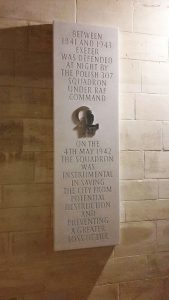 f the Polish 307 Night-Fighter squadron have been honoured with a plaque in the St James Chapel at Exeter Cathedral. The unveiling ceremony of the plaque, which is to remember the part played by the squadron during the Second World War, was attended by His Excellency Arkady Rzegocki, Polish Ambassador to Great Britain.
The squadron which was also known as the Lwow Eagle Owls, after the Polish city, were based at Exeter Airport between April 1941 and April 1943 and defended Exeter and the South West from enemy night bombers flying Defiants, Beaufighters and Mosquito aircraft.
Earlier on in the day the city had marked the 75th anniversary of the Exeter Blitz and the Polish flag was raised above the Guildhall. On 15 November 1942 Squadron leader Jan Michałowski of the Polish 307 Squadron presented the Polish flag to the then Mayor of Exeter as a sign of international cooperation and to… "remind the people of Exeter that at one time Poles and Devonians lived, fought and died for one cause."
After the war the flag was lost but in 2012 a new flag was presented to the city and the 15 November is now marked by Exeter City Council as Squadron 307 Day, when the flag is flown above the Guildhall in the city centre.