Airport 20% busier than last year
As the Christmas holidays get underway Exeter Airport is expecting to deal with over 20,000 passengers over the two week festive period.
Many will be heading for the winter warmth of Sharm El Sheikh or the Canary Islands but on Saturday there's a real winter feel about the departures with ski flights to Switzerland and France and a day trip to Lapland to see Santa. The Disneyland Paris flight is also popular at Christmas.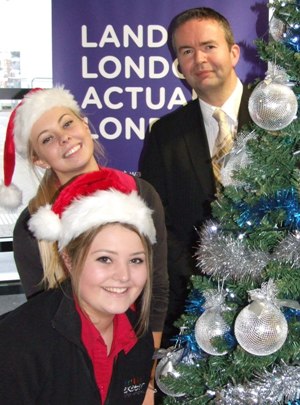 Matt Roach, Exeter Airport's managing director said: "Family and friends are getting together around the country at this time of the year and Flybe's UK flights are busy reconnecting loved ones this Christmas.  Airport members of staff are gearing up to offer assistance to all passengers especially those travelling alone.
"The run up to Christmas Day is a very busy period for the airport. We will be around twenty percent busier than this time last year following the recent introduction of flights to London City Airport operating up to three times a day and the reintroduction of the popular Newcastle service.
"We have also seen an increase in flights to Manchester which now operate up to four times a day.  These are also ideal for people connecting through the hub to and from distant worldwide destinations and with Flybe's codeshare arrangements with major international operators, the journey is made even easier."