Exeter Airport has been ranked in the top five for customer satisfaction in the Which? consumer group survey of UK airports.
The travel publication results show that Exeter had an overall customer score of 71%  where star ratings were required for bag drop, check-in, security and passport control queues, shopping and catering, seating, toilets and staff.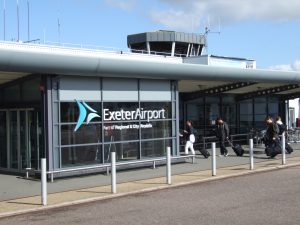 The results, which appear in the September edition of Which?, were given by the subscribers who travelled through an airport between May 2016 and May 2017. In total 31 airports were surveyed and although Exeter Airport was rated in the top section in the smaller airports category the customer score for these airports was greater than the scores for the larger airports, so Exeter had a fifth place listing overall.
The news was announced in the fifth year of successive growth for the airport which is in its 80th year of operation and offers regular direct flights to thirty destinations and connectivity via Manchester for travel worldwide.
Exeter Airport's operations director Stephen Wiltshire said: "We are very pleased to once again receive a high score in the Which? survey. Our staff work hard to provide the best possible passenger experience and we are very proud of them."
---
The top five UK airports according to Which?
1. Doncaster Sheffield (87%)
2. London Southend (84%)
3. Norwich (75%)
3. Southampton (75%)
5. Exeter (71%)