Exeter Airport has notched up its fourth successive year of growth in 2016 with passenger numbers up to 847,372.
Latest CAA figures show that 25,583 more passengers used Exeter last year, up 3% on the year before. The figures include the airport's best August in eight years, when more than 100,000 people passed through the terminal.
But the strongest growth was in November and December, up 11% and 13% respectively on the back of new winter sun flights to Alicante and Malaga in Spain, which started at the end of October.
The flights were made possible by an innovative partnership between Exeter-based airline Flybe and Regional & City Airports (RCA), the airport management division of Rigby Group PLC, which owns Exeter Airport and Norwich Airport.
This saw the introduction of one of Flybe's E195 118-seater jet aircraft on the routes, allowing them to be extended year-round, plus more seats to the ski resort of Chambery.
March also saw the launch of a new year-round service to Norwich, also operated by Flybe and the first UK route to start under the Government's Regional Air Connectivity Fund.
Exeter Airport continues to work closely with the region's business community through its Connects initiative, which aims to stimulate business travel and is planning a number of regional trade missions to other UK centres in 2017.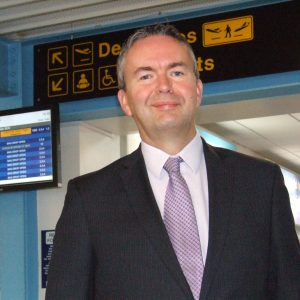 Exeter Airport managing director Matt Roach said: "This time last year we were celebrating breaking the 800,000 passenger mark for the first time since 2009, so it's great to see continued growth on the back of route development at home and abroad.
"We're continuing to focus on new opportunities, including more connections to hub airports, which is something the business community is keen to see. From the end of March there will be a fourth daily service to Manchester, connecting with Flybe's international partner carriers, and our summer schedule is increasing with more flights to Lanzarote."
Mr Roach said the airport was also working with the Plymouth business community about how best to meet its needs. This follows a Department for Transport report which said passenger services from the former Plymouth City Airport were not commercially viable. The site has been dormant for six years and has now been earmarked for a £200m garden suburb.
He added: "I think most people have accepted that there is no prospect of Plymouth ever reopening so our challenge is to make sure people in Plymouth are aware of the connections from Devon's airport, and to find out what else can work for them."