Ryanair
Ryanair, with flights from Exeter to Malaga, Malta and Naples from April, will be operating the airline's 2019 hand baggage policy allowing only one small piece of hand baggage into the cabin unless priority boarding is booked.
The following summary is subject to change:
All Ryanair passengers may take 1 small personal bag, maximum size: 40cm x 20cm x 25cm into the cabin of the aircraft.
Examples include, handbag, laptop bag and small backpack.
Passengers who have purchased "Priority & 2 Cabin Bags" or Plus/Flexi/Family ticket or connecting flight ticket can take 1 additional 10kg bag not exceeding 10kg and dimensions under 55cm x 40cm x 20cm.
Please see Ryanair baggage charges
Flybe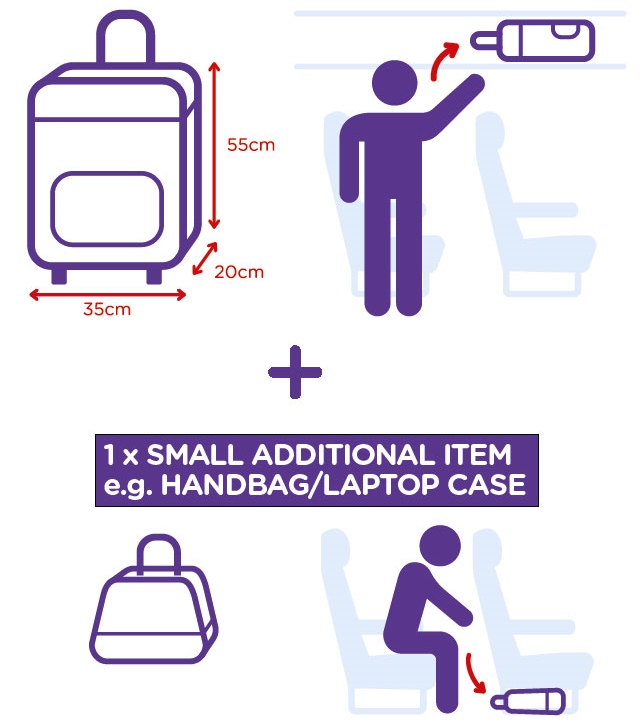 If the Flybe cabin baggage allowance restriction is not met the airline will request that the baggage is checked-in at the higher charge.
The following summary is subject to change:
One standard cabin bag measuring no more than 55 x 35 x 20 cm including wheels and handles.
One small personal item such as a handbag or laptop bag/briefcase that is smaller than your cabin bag and can fit under the seat in front.
Combined weight of 10 kg for both items.
Allowance will be subject to compliance checks.
Oversize hand baggage will need to be checked-in as hold baggage.
Please see Flybe baggage charges
Skybus
See Skybus luggage for the current allowance and charges.
The following summary is subject to change:
Allowance per person: on piece, max weight 3kg, max size 30cm x 15cm x 15cm
Passengers are entitled take a small bag plus a coat, small camera, binoculars and something to read.
TUI
See TUI Luggage for the current allowance and charges.
The following summary is subject to change:
One piece of hand luggage with maximum dimensions of 55cm x 40cm x 20cm weighing up to 5kg
Laptops, handbags and items bought at the airport must fit within one piece of hand luggage
Passengers should be able to lift hand luggage into the overhead storage compartment