Exeter Airport is working with Devon and Cornwall Police Air Support Unit and Devon Air Ambulance Trust on plans to relocate their facility, which is currently based at Police Headquarters Middlemoor, to the airport site.
The relocation of the police helicopter, which serves the force and the Devon based charitable ambulance operation, is expected to take place in early 2012.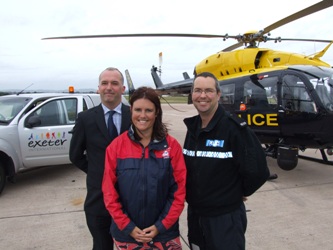 The deal supports the needs of both the police and the air ambulance service and is part of the airport's long term land management strategy to develop its property portfolio to the north side of the airfield. The plan also includes the development of land for operational use, air related industry and economic development to support local job creation.
Exeter Airport managing director Jamie Christon said: "The relocation of the Air Support Unit and the Devon Air Ambulance Trust brings the helicopters back to the airport after a long spell of absence. We have worked hard with the Police Authority to facilitate the new operation here at the airport close to its current base.
"Additionally, the airport is working to secure its application to develop land   owned and controlled by the company to the south east of the airport as part of the Local Development Framework."
Devon and Cornwall Police commented: "We are committed to working in partnership with the Devon Air Ambulance Trust and Exeter Airport. The relocation of Devon and Cornwall Police Air Support and the Devon Air Ambulance to the airport enables efficiency opportunities at a time of considerable strain on police budgets.  This change will enable us to continue to deliver an excellent level of service to the public by helping to provide an active and visible local policing presence through Devon, Cornwall and the Isles of Scilly"
Chief Executive of Devon Air Ambulance Trust, Helena Holt said: "Working in partnership with the Devon and Cornwall Police Air Support Unit has great benefits for both parties with regard to efficiencies and cost sharing. With the Force holding our operational license and providing maintenance and pilots, we have been fully involved with the relocation process throughout.