Cancer information will be available to passengers and staff at Exeter International Airport for the next three months as part of the year-long partnership between the airport and Macmillan Cancer Support.
A Macmillan 'Info-point' will be situated in the departures area of the airport and will contain leaflets about a range of cancers and about the impact that a cancer diagnosis can have. As well as tackling health issues, the leaflets will cover subjects such as the support that there is available on financial matters, how to  talk to family members about cancer and, pertinently for an information point at an airport, advice on what to do about travel insurance when you have cancer.
Jacqui Hodge, Macmillan Development Manager, said, 'We are delighted that the support being extended to Macmillan by Exeter International Airport includes this provision of information. Cancer will affect one in three of us in our lives so everyone will be affected and the more information and support we are able to provide, in everyday settings, the better. We are very grateful to the airport for allowing us to have this information point and also for supporting us in ensuring that it is regularly maintained and updated.'
Chris Beer, Exeter Airport's manager responsible for charity matters, who took delivery of the 'Info-point' from John Cammides, Exeter's Macmillan representative, said: "We are pleased to be able to offer assistance to the charity and provide the space for the Macmillan information project.  We hope that the site within the airport will draw the attention of hundreds of passengers in the next few months."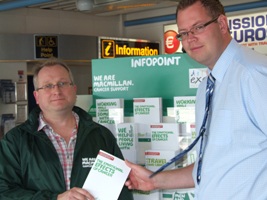 Judith Jolly, Area Fundraising Manager for Macmillan said, 'Exeter Airport has supported us for the last two years with collections, a silent auction, the World's Biggest Coffee Mornings and finally a Grand Ball at Bovey Castle. Having the information point is a really innovative development and we hope that it will provide valuable information for passengers and staff at the airport.'
The information point will at the airport until the end of 2010. For further information about cancer, please visit www.macmillan.org.uk or call 0808 808 00 00 and speak directly to a cancer support specialist.