The surge in air passengers travelling to and from Exeter International Airport has prompted the airport, Devon County Council and Flybe to join forces to improve the safety of passengers arriving at the airport by car.
The rising popularity of Exeter International Airport as a convenient, local departure point plus the growing demand for Flybe's flights to a wide range of destinations has led to a rapid increase in the number of pedestrians walking between the terminal building and the south car park. This route includes crossing the B3184 on which the amount of traffic has also increased. To help those who need to cross the road, particularly those who are laden with heavy luggage or accompanied by small children, a new puffin crossing has been installed.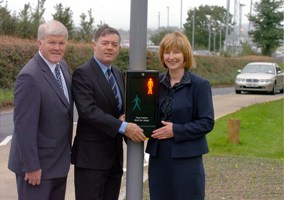 The sensor on the crossing can identify when people are waiting to cross and stop traffic accordingly. It can also sense how long people are taking to cross the road and will only allow the traffic to move when pedestrians have reached the other side.
It is a pedestrian-friendly crossing which features a green man, a bleep alarm and a revolving cone on the control panel designed to help those with partial sight. All of these signals activate when it is safe to cross.
Cllr Westlake, Chairman of Exeter and Devon Airport Limited, (pictured centre) said: "We are delighted that so many passengers are choosing to fly from Exeter Airport and it is vital that their journeys are comfortable and safe from beginning to end. Devon County Council is committed to protecting the safety of all road users and the introduction of this crossing aims to make it far easier for those parking in the south car park to make their way to the terminal building without the hassle of negotiating an increasingly busy road; hopefully resulting in a stress-free journey all round.
Sara Randall Johnson of flybe (pictured right) said: "Exeter Airport is the home of Flybe and we are pleased to help bring this crossing to the airport. During the past few years we have launched more and more new routes from Exeter and as such we have seen an increase of passengers travelling from the area. Indeed our new route to Newcastle will launch on October 31st and bookings are already surpassing our expectations. We look forward to remaining the true backbone of regional travel in the UK and working with Exeter Airport to achieve this."
Geoff Myers, Managing Director of Exeter International Airport (pictured left) said: "The initiative is in line with the Department of Transport's Airport Surface Access Strategy, a forum which aims to meet the needs of the airport's users.  The jointly funded crossing will now enable the airport's passengers to cross the road from the main car park and Flybe's staff to go to and from their head office, in greater safety."