Thomson Airways customers flying from Exeter Airport will now have the opportunity to travel on aircraft from the airline's upgraded fleet of new Boeing 737-800s.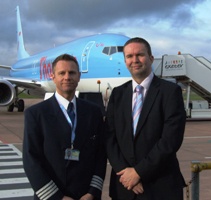 The airport's managing director Matt Roach, who met Thomson Airways Fleet Captain Phil Parry when he inspected the new aircraft this week, said: "The new Boeing 737-800 in the blue Thomson livery will be operated on short and medium haul routes to Cyprus, Corfu, Egypt, Portugal, Spain's Canary Islands and the Balearics, plus Turkey.
"With the new aircraft configured to allow seating for 189 we have the capability to fly more passengers on each flight and we should see an extra 50 passengers per week fly to Egypt. This is especially good news as the Sharm el Sheikh route will be operating in the summer for the first time this year."
Thomson Airways new 737s will offer savings in both fuel efficiency and CO2 emissions. The latest generation aircraft that Thomson Airways will fly compares very favourably to the model it is replacing by offering a fuel-efficiency improvement of 15% created by engine improvements and a reduction in surface drag.
The latest Thomson Airways 737-800s feature the new Boeing Sky Interior. Customers will enjoy a spacious new look with modern sculpted side walls and cove ceilings, larger overhead stow bins and a quieter cabin. Long lasting LED reading lights are brighter, and crew will use new technology to create the sunrise and sunset of the customer's destination.
Thomson Airways Fleet Captain Phil Parry said: "This latest investment in the new 737-800 next generation aircraft allows us to further enhance our customer's holiday experiences. This demonstrates our commitment to offering British holidaymakers a great onboard experience from their local airport."