Thomson has opened its new next generation store in Exeter High Street.
Deputy Lord Mayor Cllr Peter Holland cut the ribbon for the opening of the new look store which integrates the latest technology and is designed to enhance the experience of choosing and booking a holiday.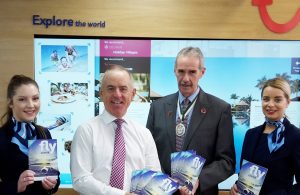 It features some of the latest retail innovations with an immersive video wall 'shop window' and customers can explore the world on an 84 inch touch screen and interactive map.
The store is zoned so customers can browes on their own, use the Advice Bar where staff will be on hand to answer questions or have a more personalised experience in the large booths.
Exeter Airport's communications manager Stephen Ayres was also at the ceremony with the latest airport brochure which features a dozen destinations served by the based Thomson aircraft.