The inaugural flight of Flybe's distinctive signature purple aircraft took to the skies from Exeter Airport on its first passenger flight to Manchester on Wednesday afternoon (3 April 2014).
The event also showcased the cabin crew's new purple uniform and on-board purple mood lighting for the Bombardier Q400, both of which will be rolled out across Flybe's entire fleet in coming months.
Matt Roach, Exeter Airport's managing director said: "We are very pleased to be able to play a part in this important event and the new aircraft livery has certainly created a buzz of excitement around the airport. We wish Flybe every success with their new look at the start of an exciting chapter in the airline's history."
Flybe's Chief Executive Officer, Saad Hammad greeted surprised passengers at a purple pre-flight party at Exeter Airport where they were treated to a selection of distinctive purple refreshments and a musical send-off by purple-clad members of the Exeter Youth Jazz Orchestra who played a rendition of the airline's new on-time celebratory music, James Brown's 'I Feel Good'!
Mr Hammad, seen with Matt Roach and cutting the purple ribbon said: "This is a memorable day for Flybe.  Our flagship purple plane reflects our new world of colour and light. Every part of our business has been touched by our brand refresh. Today's flight reflects the start of our exciting new journey as we move to become the UK's local airline of choice with a focus on time-saving and punctual travel for our regional customers."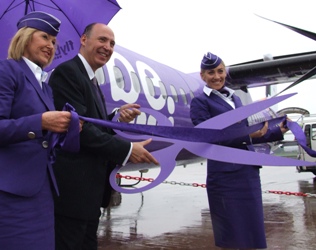 "Our passengers are at the heart of everything we do so it was really important to us today that they were a key part of the celebration. We hope a great time was had by all and I'm really encouraged by the positive reaction that our brand refresh has received to date. Purple is not just our new brand colour, it reflects our passion for delivering on our commitment to being faster than rail and road – 'The Fastest Way from A to Flybe'."