Exeter based Vehicle Save Contract Hire & Leasing Limited has teamed up with Exeter International Airport to provide a superior minibus for their Corporate Aviation clients. The vehicle contract hire company has this week provided a new exclusive nine seat people carrier to transfer VIP passengers between their private aircraft and the airport terminal.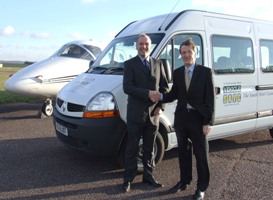 The vehicle, which is based on Renault Master, was originally designed for the military and has substantial baggage capacity but with its smooth and comfortable ride it is ideally suited for the needs of the airport and its Corporate Aviation passengers.
Jim Howard Managing Director Vehicle Save Contract Hire & Leasing Limited said:  "We have the flexibility to tailor vehicles to the needs of corporate clients and offer the best and most cost effective solution for their business. We are very excited to be working in an area where many of the airport's passengers are major players in the business community."
Managing Director of Exeter International Airport Jamie Christon said: "The Corporate Aviation department was set up two years ago when we recognised that our private jet clients expect a different kind of service; and it has proved a resounding success.  Our Master Plan strategy states that we wish to work with local independent companies wherever possible and we are delighted to be supported by Vehicle Save Contract Hire & Leasing who have provided a first class service."
The airport's Corporate Aviation department not only provide aircraft to terminal transport, there is also a private VIP lounge and gourmet catering for aircraft provided by local celebrity chef, John Burton-Race. The Corporate Aviation Manager, Chris Beer has a job similar to that of a hotel concierge. His unusual demands for a flight have included Russian caviar from the Caspian Sea and organising a permit for a dog in New York. The team of three deal with UK and overseas royalty, many of whom enjoy the country pursuits of the region and well known celebrity clients which have recently included artist Damien Hirst, airline boss Sir Richard Branson and American rapper Kayne West.
Chris Beer, Corporation Aviation Manager said: "We are here to ensure our passengers have a seamless, if brief, use of the airport.  We are constantly on hand to cater for every requirement and our client have high expectations. The new vehicle helps us offer our high profile passengers the facility they expect and the feedback has been very positive."