Pirates of the Caribbean, Johnny Depp lookalike joined Exeter Airport's World Duty Free (WDF) shop members of staff who had been supporting a campaign to raise awareness of the fact that millions of people in the developing world have to walk for miles to collect water every day.
The swashbuckling captain welcomed back the pirate themed walkers and made the draw for the lucky winners of the hampers of perfumery 'booty' before a session of rum sampling with passengers.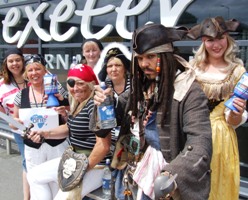 On Thursday morning (18 June), 5 ladies from WDF had set out on a two hour sponsored walk around the airport terminal course, each carrying 5 bottles of water. The sponsored team drew attention to the fact that every day people in Africa walk for miles, just to get something to drink, and that a billion people in the world have access to less than 5 litres a day, which is a quarter of the World Health Organisation and UNICEF recommended minimum water requirement.
The airport's departure lounge World Duty Free shop supports the campaign by stocking One water, the brand that supports the building of wells with every drop of its profits. The scheme has proved very popular with travellers who are not permitted to take liquids through the security search area.
The fundraising actively is expected to raise £500 for charity, 20 per cent of which will be donated to Exeter Airport's charity of the year, McMillan Cancer Support.