Exeter Airport's XLR executive jet centre has reported one of its busiest ever weekends after the airport hosted a clutch of executive jets for the UEFA Champions League final in Cardiff and fleets of aircraft for the Torbay Air Show.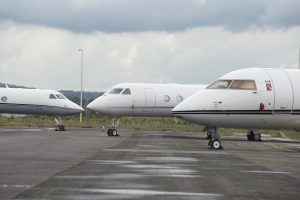 XLR usually handles three or four corporate aircraft a day on average, but over the weekend had 25. This included eight corporate jets used to ferry VIP guests to the UEFA Champions League final after all available spaces at Cardiff and Bristol Airports were taken. The aircraft came from Russia, Spain, Belgium and Italy.
XLR also catered for visiting crews for the Torbay Air Show, including the Red Arrows display team with 11 aircraft and 25 crew, who used XLR's luxury lounge for flight preparation and debrief. Other visitors included a Spitfire and Hurricane from the Battle of Britain Memorial Flight, two RAF Typhoons, and various acrobatic display teams.
But XLR staff are remaining tight lipped about whose executive jets were parked at Exeter Airport at the weekend.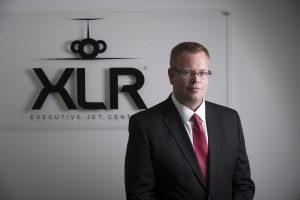 Chris Beer, XLR Director of Corporate Aviation, said: "Confidentiality to our customers forbids me from revealing who they are, but suffice to say they expect exemplary customer service and the utmost discretion.
"The UEFA final attracted around 170,000 people to Cardiff and we were basically used as overflow parking for private aircraft unable to get into airports closer to the venue. We actually turned away another 30 because we were at capacity with all the visitors to the Torbay Air Show as well, so it was one of our busiest ever weekends."
Exeter Airport has a growing corporate aircraft market and airport owner Rigby Group plc has invested significantly in expanding its XLR operations.
As well as established jet centres at Exeter Airport and Coventry Airport, which the group also owns, It was announced last week that XLR had acquired a purpose-built corporate aviation facility at Birmingham Airport, complete with a 27,000 sq ft temperature controlled hangar.
The deal opens up significant opportunities for domestic corporate air travel as well as growing markets across Europe, Asia and the Middle East.