Work has started on a £400,000 project to expand and redevelop the Security Search Area at Exeter Airport.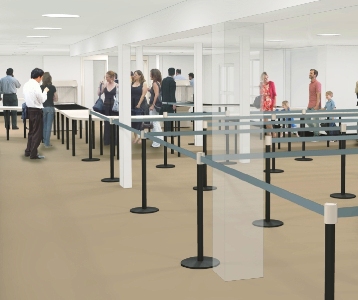 The new enlarged design for the area, with additional screening equipment, will make the passenger journey through the security process faster and more efficient.
Exeter Airport's operations director Stephen Wiltshire said: "The completion of the work will coincide with the start of the new London City Airport service which starts on 27 October.
We expect to see a lot of demand on this Flybe route which will operate up to three times a day, so it is essential that this much needed improvement is ready for the passengers on flights to the capital and on all other services.
"We hope that the new Security Search Area will offer a better customer experience.  However, we do apologise to our passengers for any inconvenience and disruption during the improvements."
The start on the security area project comes just a week after Exeter Airport gained a coveted 'Recommended Provider' status from Which? for its focus on customer service. The survey by the leading consumer organisation concludes that small airports are, on average, providing a better experience than larger ones.