Exeter Airport has announced a £6 million investment in infrastructure that will futureproof the airport for the next 20 years.
Over the next five months the airport's 2,078-metre (1.3 mile) runway will be resurfaced and all runway lighting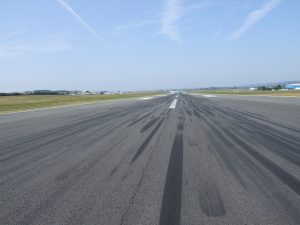 replaced with energy-efficient LEDs.
The work will be carried out entirely at night during weekends between November and March, to avoid disruption to passengers. During this time Car Park P4 will be used for contractor's equipment and will not be available for passenger parking.
Exeter Airport's managing director Matt Roach said: "This is a major investment in Exeter Airport's future and builds on the £3 million invested in the terminal and other facilities by our parent company the Rigby Group over the last few years.
"We have timed the work to avoid disruption to passengers so it will be carried out in stages overnight at weekends, and the new surface should have a lifespan of around 20 years.
"It is vital that we continue to invest in Exeter Airport's infrastructure so that we can maintain
the national and international air connectivity that is so essential to our region's economy."
Exeter Airport is enjoying its fourth successive year of growth and in the year to March handled 858,000 passengers, which is an increase of 5% on the previous year. The airport has around 40,000 aircraft movements per year.