One hundred travel agents attended the Exeter Airport launch of the Royal Caribbean 2012 series of Fly-Cruise Holidays this week and were given full details of the Adventure of the Seas sailings from Malaga.
Exeter Airport, which has been nominated for the travel industry's Globe Travel Awards in the Best UK Airport category, hosted an event which featured a presentation about cruising from Louise Craddock, the major account manager for Royal Caribbean and key account manager for the company Andrea Stafford.
The travel trade guests learnt that after checking-in, their passengers on the weekly summer Saturday departures for Malaga would be offered complementary use of the Executive Lounge before joining one of the Flybe Embraer aircraft to Spain.
After arrival at Malaga passengers will be transferred to the Adventure of the Seas which from May until the end of October visits ports-of-call in the western Mediterranean.  The cruise passengers will have the opportunity to visit Valencia, Rome, Florence, Pisa and Corsica.  Later in the season, after departing Malaga the itinerary switched to the Canary Islands of Madeira, Tenerife, Gran Canaria and Lanzarote.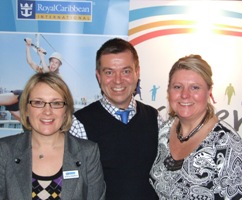 The ship has areas for shopping, swimming, ice skating and relaxing in the spa. The Adventure of the Seas also offers a variety of places to eat from fine Italian food to a '50s-style diner, then there's the shows and late night entertainment.
Richard Broadley, Exeter Airport's commercial manager said: "We are very pleased to play our part in offering a whole summer season of local departures for these cruise holidays.  I'm sure passengers will appreciate the convenience of flying from their local airport with Flybe to join their cruise and with full board prices starting from £699 we know these holidays will prove to be very popular."