The Prince of Wales and The Duchess of Cornwall today visited the Fire Services Academy, Fire Behaviour School based at Exeter Airport.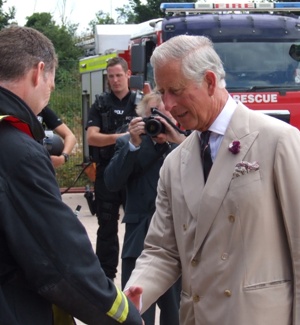 After being met at their helicopter by airport Managing Director Matt Roach and Corporate Aviation Manager Chris Beer they were given a tour of the new facility and watched a multi-agency training exercise by the Police, Fire and Ambulance services.
The exercise was based upon a critical incident, of a hazardous materials spill, and showed all three services combining their efforts, equipment and training in order to safely rescue casualties from a building and from vehicles.