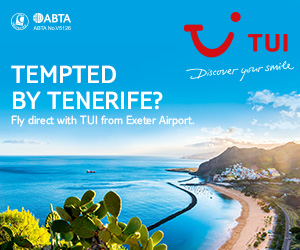 Let us tempt you with our Tenerife TUI hoidays – with all the convenience of a local departure from Exeter Airport.
A holiday hotspot
Tenerife's unerring reputation has been built on the back of decades of good reviews. One of the earliest came from Queen Victoria, who used to take her vacations here in the 19th century. If you want a more up-to-date character reference, you only need to look to the two million holidaymakers who flocked here in 2016.
The beach scene
The secret of Tenerife's success starts with its beaches. On the island's south coast, resorts like Playa Las Americas, Los Cristianos and Costa Adeje have something going on around the clock. There are white sands and watersports to see you through the day and a world's worth of restaurants, bars and nightclubs to move you through the night. The tourism limelight shines a little softer on the resorts on the west coast. Days in Playa de la Arena, for example, revolve around the sleepy volcanic beach, and nights play out in beachside restaurants.
Mount Teide National Park
There's more to Tenerife than its coastline. Its interior is dotted with banana plantations, traditional villages and national parks. There are more than 40 protected nature areas, which join together to cover almost half of the island. Take a trip to the centre, and you'll discover Mount Teide, the third largest volcano in the world. It's surrounded by an unearthly landscape of solid lava.
Tenerife for year-round sunshine and so much more.
See the holiday options from Exeter and further Tenerife details.