Over one hundred travel agents from across the South West recently attended two evening events to promote the opportunities for passengers to use Manchester Airport as a hub for worldwide connections.
The events at Exeter Airport and at Plymouth's Jurys Hotel were sponsored by Manchester Airport and organised by Exeter Airport together with Flybe, the airline with frequent daily flights to the North West hub airport.
Representatives from Etihad, Virgin Atlantic, Jetset, If Only, Emirates and United Airlines were at both evenings and were able to explain directly to the travel agents why the connectivity to hundreds of destinations around the world is of real benefit to their clients.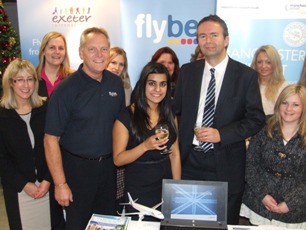 Matt Roach, Exeter Airport's managing director said: "We very much appreciate the fact that travel agents have travelled from around the region to attend our events and we hope that have been able to gain a better understanding of the travel companies and airlines that operate from Manchester.  Their customers can check-in at Exeter for flights to, for example… Sydney, New York, Toyko and Cape Town, but the list goes on and on; and we expect to see an increasing number of our passengers choosing to connect to the flights offered at Manchester rather than travelling through one of London airports."
Manchester Airport has worked with the airline to ensure that it can accommodate the Flybe schedule which gives passengers from the South West improved connectivity.  Manchester is one of the most important airports for the airline which currently offers up to three daily flights to the hub airport.  The connecting times have been reduced to as little as 35 minutes and passenger baggage, which is checked-in at Exeter, goes all the way to the final destination without the need to reclaim at any transfer airport.
[pictured with travel agents: Paul Willoughby (Flybe),  Sheetal Dharni (Manchester Airport) and Matt Roach (Exeter Airport)]