Exeter Airport played an important role in the celebrations to mark the delivery of Flybe's first two E175 jet aircraft when the airport fire service provided a spectacular water arc.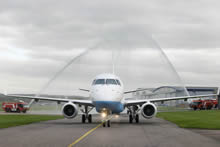 The arc, a traditional form of welcome for aircraft joining the fleet and the first for the airport, was created when two fire tenders on either side of the taxiway near the fire station sent water under high pressure 50 metres into the air.  Those watching the welcome included Flybe's Director of Engineering Stefan Kontorravdis and Andrew Strong, Managing Director of Flybe UK who commented: "The water arc is a tremendous sight and I'm particularly grateful to our friends at Exeter Airport for arranging such a great display."
"The arrival of the first two new Embraer aircraft is a significant moment in Flybe's history. The financing with BNDES, Brazilian Export Development Bank, secured all planned aircraft financing requirements through to July 2014 and is an important milestone for Flybe, sending out a very clear message that the business is in robust financial health.
"The aircraft will be in service in the next few weeks, once the relevant approval has been gained from the CAA, and I'm sure Flybe passengers around the UK and Europe will be impressed by the comfort, speed, reliability and performance of one of the world's finest aeroplanes."