A unique piece of wooden art by Rob Heard has been 'checked-in' at Exeter Airport to promote an arts exhibition at the Exeter Flying Club building on Sunday 3 March.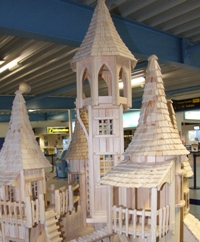 One of the artist's Bough House sculptures will be on display the main terminal building over the weekend. It has a series of aerial walkways and staircases leading to rooms under fairytale turrets. Rob Heard's work, which has taken several months to create, was constructed on the edge of Exmoor with inspiration from the surrounding rolling countryside, and it evolved as part of a free-flowing creative journey which had no natural limit.
The sculpture will draw attention to the main exhibition which will show arts and crafts made by 'Ladies in Aviation' and 'Pilots in Art'.  Paintings, jewellery, cards and wearable art will be on display from 10am until 4pm at the Aviation South West supported event.