The South West Airfields Heritage Trust's five year campaign, for a memorial at Exeter Airport to mark important role the military airfield played during WWII, came to fruition at 11am on Tuesday 27 March with the unveiling of a statue.
The life-size bronze statue of a WWII Battle of Britain pilot scanning the sky for his missing comrades now stands on a hexagonal plinth on the grass at the front of the airport's terminal building.
Robin Gilbert, who led the South West Airfields Heritage Trust campaign, said: "The Trust is proud to have played its role in the project to highlight the part the airfield played during wartime and bring about the monument which commemorates those who served at RAF Exeter during that period."
Frances Margaret a local sculptor at Otterton, whose family had close connections with the airfield during the war, carried out the commission and in addition to the sculpture the sloping sides of the plinth will carry informative plaques giving an introduction and a brief history of the airfield during the war years.
Following the sale of the airport, Devon County Council who owned the airport until 2007, agreed to part fund the project with £20,000 from the proceeds. The Chairman of Devon County Council, Cllr Jeremy Yabsley, said: "The role that this airport played as a base for strategically defending the southwest should not be forgotten and neither too should all the air men and women involved in the many campaigns that operated in and out of this base. Devon County Council is proud to be a partner in this most worthwhile memorial, and pleased that our support has helped to make this happen."
The airfield played a mayor role in defending the city of Exeter and the Right Worshipful Lord Mayor of Exeter, Cllr Stella Brock and Cllr Jeremy Yabsley officially unveiled the statue at on Tuesday 27 March in front of seventy invited guests. Graham Weller, the chairman of the South West Airfields Heritage Trust then handed over the custody of the monument to Matt Roach, Exeter Airport's managing director.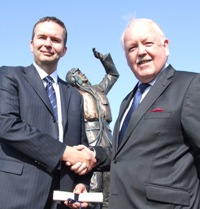 Exeter City Council provided five thousand pounds for the project and an additional eight thousand pounds was donated by The Polish Air Force Association. Other major contributors included the Sir John & Lady Amory's Charitable Trust, Elizabeth Nicholas–Hubbard and her late husband Flt Lt John Hubbard, Arktis Limited, RAF Harrowbeer 70th anniversary event, Honiton's Allhallows Museum, the National Service Association R.A.F. and Clyst Honiton Parish Council.