Battle of Britain Day, 15 September, was marked by the flights of two Spitfires flown by pilots from Exeter and the naming of one aircraft by the Lord Mayor of Exeter Cynthia Thompson.
Thursday's event on the 76th anniversary of the Battle of Britain, the air battle between the RAF and the Luftwaffe, was also attended by children from Morchard Bishop school who were able to ask questions about the iconic aircraft operated by the Boultbee Flight Academy.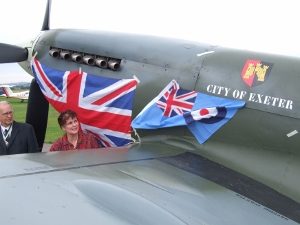 The two-seat Spitfire SM520, has been taking passengers on 20 minute flights over the Devon countryside for the past week and occasionally flying in formation with a single-seat Spitfire RR232 which was built from a single rivet by Exeter-based 'Tool Care Hire' owner Martin Philips.
The Spitfire was officially named The City of Exeter by the Lord Mayor who during the ceremony made mention of the part Exeter Airport played during WWII.