The world's only Spitfire Flying School, the Boultbee Flight Academy, has been operating Spitfire passenger flights from Exeter and for the first time ever members of the public have had the chance to get behind the controls of the iconic aircraft as it flies over the stunning Devon countryside and coastline.
The famous Spitfires Merlin engine has been heard in the skies as it was did in WWII when the airport, then named RAF Exeter, was an active operational fighter base.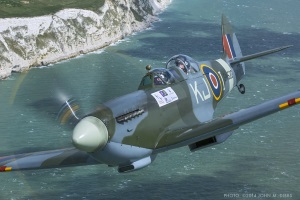 As well as the opportunity to fly in the Boultbee Flight Academy two seat Spitfire SM520 some had the chance to fly in formation with the single seat Spitfire RR232 aptly named 'City of Exeter'.
Devon born Matt Jones, Managing Director of Boultbee Flight Academy and Spitfire Pilot said: "Having been to School in Exeter it's great to bring the Spitfires to the City this summer especially given the airport's history as an operational Battle of Britain base. It's even more special to be flying with the 'City of Exeter' Spitfire offering people the once in a lifetime chance to be part of a Spitfire formation."
The 'City of Exeter' Spitfire was built from a single rivet by Exeter based 'Tool Care Hire' owner Martin Philips.  Martin, who will soon complete a twin seat project Spitfire MK IX BS410, said: "It gives me great pleasure to return this iconic silhouette to our Devon skies and having been born and educated in Exeter I look forward to sharing my dreams and aspirations with the lucky few who will participate."
For more information contact:
Boultbee Flight Academy
01243 53 11 47