Exeter Airport together with Flybe, have marked another milestone in the construction of the new Flybe Training Academy building, with a topping out ceremony on the roof of the simulator bay.
Jamie Christon, the airport's managing director joined other guests including representatives from Flybe's academic partners, Exeter University and Exeter College, when the Flybe Chairman and Chief Executive Officer, Jim French officially laid the last brick at one of the highest parts of the building. The state-of-the art building, funded by Flybe, the Learning and Skills Council and the South West Regional Development Agency, is being built by local firm, Rok.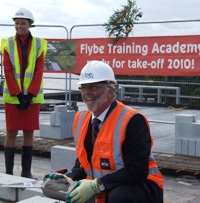 The Flybe Training Academy will incorporate 25 classrooms and four flight simulators and has been designed to provide a world-class training not only for its own staff but also enhance Flybe's growing reputation as an international training facility for the airline industry as a whole. It will also offer specialist training for companies involved across the travel-related spectrum.
After the brick was laid, Mr French commented: "It is extremely exciting to watch our new Academy grow out of the ground and it is an honour to be able to position one of the last bricks on the roof.
"This is a key project for skills' development in the South West and would not have been possible without the committed and ongoing support of our funding and academic partners. In today's competitive global economy, it is vital to create, develop and retain a highly skilled workforce in order to succeed and survive. I would like to take this opportunity to thank them for helping to bring this project to reality and we look forward to its completion at the end of the year."