The return of over one hundred 40 Commando personnel from Afghanistan has marked the launch of Exeter Airport's charity of the year for 2011; Help for Heroes.
An Airbus A340-300, one of the largest aircraft to use the airport in its 70 year history, touched down at 2pm on 6 October bringing home the first contingent of 120 troops returning to the South West this month.  Following their tour of duty in Afghanistan, the first of two flights from Cyprus arrived with the men of 40 Commando who were met by Major Bulmer OC Rear Party 40Cdo, Deputy Vice Admiral Ibbotson and Colonel White Deputy Commander 3Cdo.
Exeter Airport's Managing Director Jamie Christon greeted the returning troops together with the H4H County Co-ordinator David Gammell and officially announced the airport's intention to fund-raise for the charity which supports the men and women of the Armed Forces who have been wounded in the service of the country.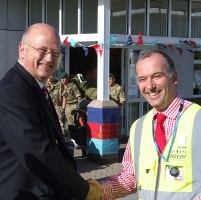 Mr Christon, expressing his admiration for those who have been involved in the conflict, said: "The airport supports one major charity for a twelve month period and many of our members of staff were keen to adopt Help for Heroes as the charity for 2011.
"We are very pleased to play a part in encouraging passengers and staff to raise funds for the projects which can make a real difference to the lives of our wounded heroes."
Mr Gammell welcomed the association with the airport and said: "Exeter Airport plays an important role in dealing with the troop flights to and from the UK and we are very pleased with the promise of support for our charity in 2011."