The armed forces charity Help for Heroes has benefited from Exeter Airport's Colossal Cake Sale event at the weekend when £1,350 was raised.
Members of staff were asked support the airport's adopted charity for 2011 on the 1st and 2nd April, by making and buying cakes for the event and assisting with the running of the event at the tables.
In return for a donation to the charity; coffee or tea was served to passenger and employees along with a choice of cakes, from muffins and cup cakes to sponges and fruit cakes.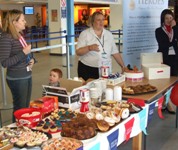 Chris Beer, Exeter Airport's manager responsible for charity fundraising said: "The two days fund-raising proved to be a fantastic success. At one stage before the event my office was completely full of boxes and tins of treats made to wonderful standard. The enthusiasm and the baking talent within our workforce was outstanding.
"I have also never seen so much staff and passenger generously before, with £20 notes being put in to the buckets in return for the smallest cakes."