Contract Catering Café of the Year at Quality Food Awards
The Mount Charles-owned Fed & Watered Café-Bar in Exeter Airport has been named the UK's Contract Catering Café of the Year at the Café Quality Food Awards 2016, presented by former Pop Idol winner Gareth Gates.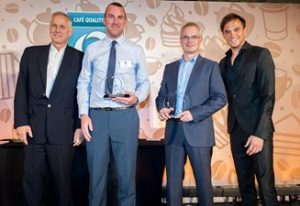 The event, which was held on 21st October in the Mariott Grosvenor Square in London, recognised the outstanding performance of Fed & Watered in the past 12 months in areas such as financial growth, innovation, commitment to its local area and environmental efforts.
Earlier this year Mount Charles, one of the UK's largest independently owned foodservice and business support organisations, invested more than £75,000 to the catering facilities in Exeter Airport.
Cathal Geoghegan, Managing Director of Mount Charles said: "We're delighted to win this award for Fed & Watered at Exeter Airport, the second Café Quality Food Award the brand has won this year – it also won Ireland's Contract Catering Café of the Year last month, which is testament to the quality and consistency of the offering.
"We have been the sole operator of all catering outlets at Exeter Airport since 2012, serving around 400,000 passengers per year as well as airport employees. The investment we made this year to refurb and revitalize the offering to better meet consumer demands and trends has clearly paid off.
"One of the strengths of the Fed & Watered brand is its focus on locally-sourced artisan produce. Up to 75% of the food and drink we're serving is of local origin and we work closely with those suppliers to offer seasonal good food that showcases the region to its absolute best to the travellers passing through," he added.
Judges commented: "A friendly and light airport café, offering a great selection of sarnies and cakes and a sound selection of cooked items. A highly sought after product in a busy regional airport."
Organised by Metropolis Business Media, Group Publisher Helen Lyons commented: "What sets the Q Awards apart is the impartiality and rigour of the judging process, which rightly sits at the heart of everything we do – it means people buying products with the 'Q' mark know they are choosing the best in the market."
Fed & Watered in the Obel Building in Belfast was named Ireland's Contract Catering of the Year at the 2016 Irish Café Quality Food Awards.
Mount Charles is one of the UK and Ireland's leading foodservice, cleaning, vending, and security firms, employing approximately 2,000 people across its diverse range of contracts.
Photo caption
L-R: Steven Minall, Moving Food, Simon Waite, Fed & Watered, Anthony Hestor, Dobbies Garden Centre and awards presenter Gareth Gates.