Exceptional service for blind travellers
People who are blind and partially sighted often experience difficulty accessing services, so Guide Dogs, the national mobility charity for people who are blind and partially sighted, was delighted to hear reports from Guide Dog Owners using Exeter Airport that they had received exceptional service from the passengers services staff at the airport.
As an acknowledgment Guide Dogs has presented the airport with a certificate to thank the passenger services team for the service they have provided.  Guide Dog Owner, Marilyn Lant with her guide dog, Mo, went to the airport to present the certificate and it was accepted by Duty Manager Paul Brady on behalf of the airport.
One Guide Dog Owner said: "When I arrived at the airport I was made to feel very welcome.  The lady who met me knew exactly how to guide me through the check-in and she made sure that I was looked after me until I boarded the plane.  I felt completely safe and she made the journey through the airport completely stress free for me and my guide dog."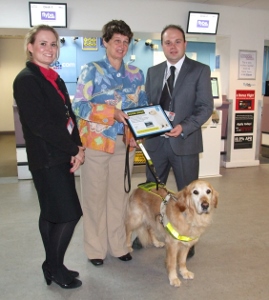 Accepting the certificate on behalf of the airport Paul Brady said: "We are very pleased to have been recognised for the role we play in helping our passengers who have a visual impairment. Assistance dogs can travel in the cabin on domestic flights or international routes with Flybe but we would ask passengers to make arrangements with the airline before coming to Exeter Airport."
Alun Gwernan-Jones, Head of Mobility Services for Guide Dogs South West region, said:  "I am very pleased that the staff at Exeter Airport are willing to go the extra mile to help people who are visually impaired.   I often hear complaints about poor service so I am particularly happy that Exeter Airport has deserved this award from Guide Dogs.  Several members of the airport staff have attended our My Guide Sighted Guiding training course and have learnt how to safely and comfortably guide people who are blind and partially and I am pleased to hear that they are putting their skills to good use."