Year-round sunshine holiday flights announced
Flybe will offer year-round sunshine holiday flights at Exeter Airport following a deal with Regional & City Airports (RCA), the airport management division of Rigby Group PLC, Exeter Airport's owner.
The partnership, which involves significant investment from both parties, will safeguard the future of Exeter Airport's existing summer holiday flights to Alicante, Faro, Malaga and Palma, and will see year-round services being introduced to Alicante and Malaga. The frequency of winter flights to Geneva will also be increased.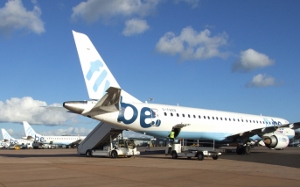 Seats on the popular 118 seat Embraer 195 aircraft from the Flybe fleet will be available for booking from early November following the release of Flybe's 2016 summer schedule.
Matt Roach, Managing Director at Exeter Airport, said: "Since Rigby Group acquired Exeter Airport it has been the stated aim to protect existing routes while establishing new ones, and today's announcement underlines that commitment. Not only does this partnership secure and extend holiday flights from Exeter, it also provides a firm foundation from which to build for future expansion."
Norwich Airport, which was acquired by the Rigby Group last year and is now part of RCA, will also see the return of sunshine routes.
Sir Peter Rigby, Chairman and Founder of RCA owners Rigby Group, said: "Since taking ownership of Exeter Airport in 2013 and Norwich Airport a year ago, we have been firm on our commitment to invest in the future of both sites. Today, with a milestone agreement guaranteeing the continued operation of winter and summer holiday routes from both airports, we have underlined that determination with some very concrete results.
Saad Hammad, CEO, Flybe said: " There continues to be strong demand for our sun routes as a year-round product and we are delighted to have reached this agreement with the Rigby Group for the productive utilisation of another of our modern Embraer jets."