Staff at Exeter Airport have joined forces with RNIB (Royal National Institute of Blind People) to undertake specialist awareness sessions, aimed at better-assisting passengers with sight loss and reduced mobility.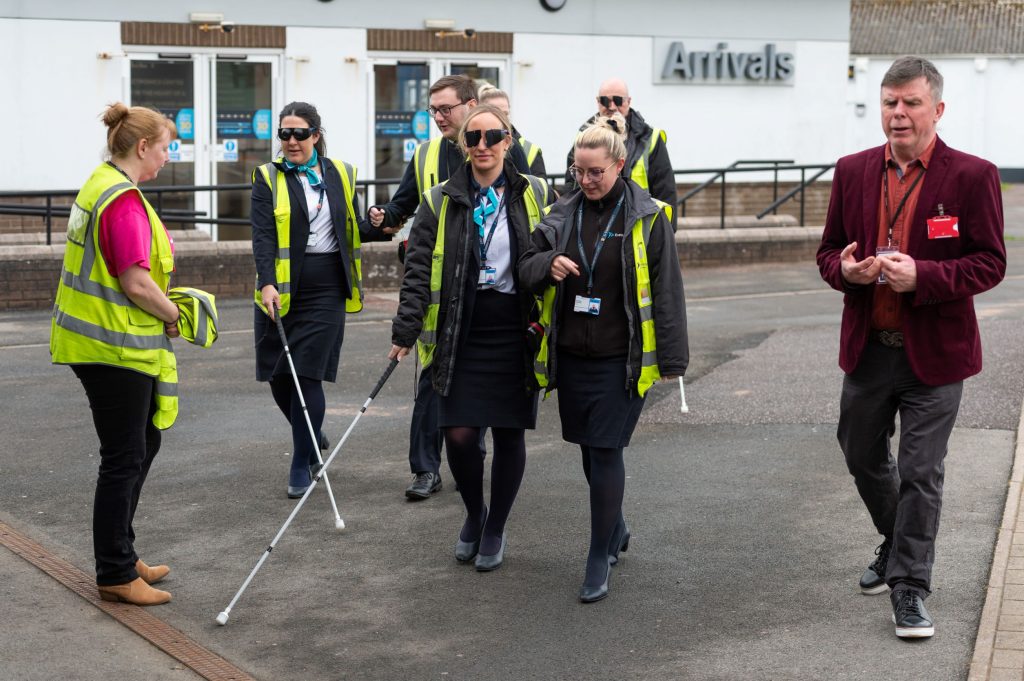 Around 20 members of the passenger assistance team (pictured) were involved in a series of two-hour practical sessions with the charity, where they wore glasses simulating common eye conditions and used white canes to complete a typical passenger journey through the airport.
The awareness sessions took place in the terminal building, check-in area, security channel, departure lounge, and outside on the 'apron' leading to the aircraft to provide airport personnel with improved knowledge and understanding of travellers' needs.
RNIB worked with passenger services to devise the exercises to provide learning opportunities for staff at the airport.
Richard Shuker, South West Community Connections Manager for RNIB, said: "With nearly a quarter of a million people affected by sight loss in the South West, the importance of improving and enhancing the training for staff working in customer-facing roles is vital. We want people who are blind or partially sighted or have reduced mobility to have a dignified and seamless experience when travelling through the airport."
He added: "Providing good communication is vitally important when understanding the requirements of a traveller with sight loss. The training concentrates on improving the confidence and reassurance for both the passenger and staff member – this is the way forward."
The team is also being supported with online learning as part of the ongoing relationship between Exeter Airport and RNIB.
The charity will continue to work with the Airport by joining its disability forum and offering further practical advice on physical changes to equipment or accessibility that might be necessary.
The RNIB initiative is part of Exeter Airport owner Regional & City Airports' ongoing commitment to making air travel more accessible and inclusive for all passengers. This includes a project trialling the use of 360 video to make visiting its airports less daunting for passengers with additional requirements, with a video set to be piloted at Bournemouth Airport shortly.
Claire Chambers, passenger services trainer at Exeter Airport, said: "It is a real privilege to work with RNIB in the South West and draw on their experience and expertise to help our staff better understand the needs of passengers with reduced mobility or who are blind or partially sighted. It is really important to demystify any concerns that people with disabilities may have, to assist them wherever we can and simplify their journey through the airport.
"We want to make sure that people are given as much relevant information about their journey before they arrive. Not knowing what assistance is available can often cause people with reduced mobility a lot of anxiety and anything we can do to ease or, better still, remove that anxiety in advance of their arrival at Exeter Airport can only be a good thing."
Following the success of this partnership, RNIB aims to roll out the awareness initiative to other airports across the country including Bournemouth and Norwich – both operated by Regional & City Airports (RCA), part of Rigby Group plc.
Richard Shuker added: "We have been extremely impressed with Exeter Airport and the willingness and enthusiasm from the whole team to engage with us. The feedback has been overwhelmingly positive. It's fantastic to be working with Exeter Airport to create a 'blueprint' for training requirements and we hope this can be used as a benchmark and set the standard in the future."
For more information about the Special Assistance available at Exeter Airport, visit www.exeter-airport.co.uk/special-assistance
For more information about the work of RNIB, visit www.rnib.org.uk.