Exeter Airport welcomed Devon-based best-selling author and comedian Tony Hawks today as he flew off to Belfast to embark on another exciting journey – with a fridge.
Twenty years ago, Tony hit the Sunday Times bestseller list with his novel 'Round Ireland with a Fridge', which told the story of how he spent a month hitch-hiking around Ireland, accompanied by just a table-top fridge to win 'a rather pointless' £100 bet! The book went on to sell more than 500,000 copies and was later turned into a hit film.
Tony is recreating his world-famous adventure around the island of Ireland and he aims to seek out the many people who helped him previously on his journey and to acknowledge them in a new book, 'Once More Unto The Fridge'.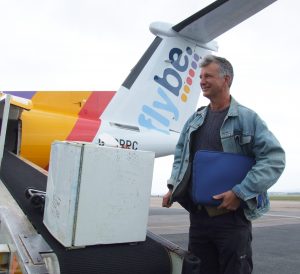 Flybe, Europe's largest regional airline, booked Tony on the flight from Exeter to Belfast City airport from where he will start his adventure that will end in Dublin later this summer.  Here, during a 'Turn the Fridge On! Party', he will attempt to turn the fridge on to work for the very first time after its long trek.
Tony commented: "My Round Ireland With a Fridge adventure changed how I lived my life. As such, I'm immensely grateful to all those people who sustained my crazy adventure all those years ago. But I've never said thank you to them.
"The time has come to change that. I have checked out the notebooks I filled when I hitched around Ireland before and made a list of all the people who helped me. So now I'm going to track each one down and come up with a unique way of thanking them, starting with a thank you to Flybe for helping me fly to Belfast for the start of my travels. Naturally, I'm taking the fridge with me as it's my lucky charm."
Those wanting to follow in Tony's footsteps can fly to Belfast with Flybe.
For more information about Tony Hawks' Once More Unto The Fridge tour and book.