UK Airports Safety Week is the Airport Operators Association (AOA) initiative to capture the imagination of a wide cross-section of airport stakeholders, including members of the public, and to engage, inspire and educate about how a safety culture can be effective.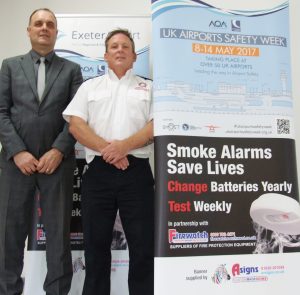 To mark the week in Exeter the airport's Fire Service Manager Darren Kinsman-Moore has been working with Firewatch on safety matters. Firewatch, a company which provides fire protection services, fire extinguisher and fire alarms maintenance and installation, has provided awareness banners and one of the directors, Roy Blunt, has been to the airport to help promote the importance of smoke alarms as part of UK Airports Safety Week.
The Airport Operators Association members are making a national statement which is a determined focus to promote safety improvement and development through experience and learning.