Exeter Airport is playing its part in the Moor Otters Trail this summer. One hundred decorated otter statues were 'released' from Bovey Castle on Dartmoor last month and placed at a range of locations around the area.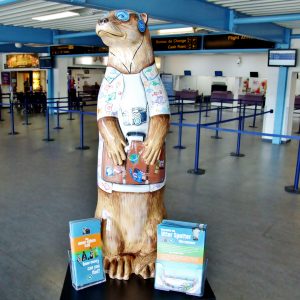 The decorated resin statues have been created by talented artists, mainly from the local region, and have become part of a major art trail which will give many the opportunity of exploring the delights of the area whilst appreciating the work of the artists involved in the project. Moor Otters also celebrates the conservation success which has seen the growing numbers of wild otters on Dartmoor.
The Moor Otters project aims to raise £100,000 for future conservation projects. Donation slots are inserted into each of the pedestals on which the otters are displayed and there will be an auctioning off of the otter statues later in the year.
The otters will be on display throughout the summer months when it is hoped that holidaymakers, local and other visitors will take part in the trail. Children can obtain an "I'm An Otter Spotter" badge for finding twenty of the statues but every trail entry will also go into a competition to win meals, cinema tickets, luxury chocolates, vouchers and short brakes all donated by local businesses.
Exeter Airport's Globetrotter otter is on display in the check-in area of the terminal building.