A rare event occurred over Exeter Airport this lunchtime when Air Traffic Control staff invited Airbus to do an approach with the world's largest commercial aircraft.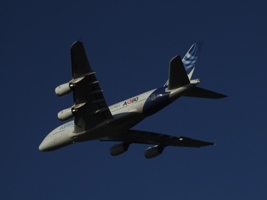 Airbus flew their double-deck A380 aircraft from their assembly base at Toulouse in France via Exeter to Filton to mark the airfield's closure after 102 years and collect wing building equipment.
The A380 can be fitted out to carry up to 853 passengers but this demonstration aircraft with test apparatus on the lower deck, then carried just 60 BAe and Filton Air Traffic Control staff on a local flight as a thank you for the part they played in the development of the aircraft.