Large concrete sections are being craned into place at the new Clyst Honiton Bypass to create an 80 metre tunnel which is a safety measure at the eastern end of Exeter Airport's runway.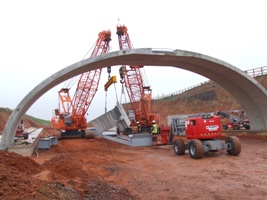 The first of 44 concrete tunnel sections have been lifted into place and linked at the top of the arch. When the work is complete, which is being carried out without compromising the airport operations, the tunnel will be covered with earth to bring it to the same height as the runway and covered with grass.
Matt Roach Managing Director of Exeter Airport said "The airport has worked closely with both designers and contractors to ensure that the safe operation of the airport is maintained at all times. We welcome this key piece of infrastructure which opens up the gateway to a number of key developments in the area."
The Clyst Honiton Bypass combined with improvements to the B3174 (the old A30) will take traffic away from the village and provide access to key employment sites at the Skypark business park, the Inter-Model Freight facility, where Sainsbury's are building a distribution centre and improve connectivity to the new community of Cranbrook.
Work on the bypass, will continue into 2013 and it is anticipated that the whole scheme will be completed before the summer.