Building work has officially started on a £3.5 million fire training facility at Exeter International Airport.
The building, which will be used by Devon & Somerset Fire & Rescue Service to train its firefighters, will provide facilities for fire behaviour training and hot fire and foam training. The site will also include mock-up houses and an aeroplane to practice specialised firefighting techniques.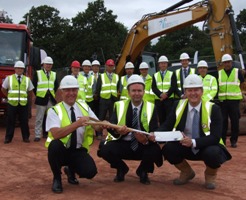 Matt Roach, managing director of Exeter Airport, welcoming the development, said: "The joint fire training ground is a unique development and is hugely positive in terms of the training resource that can be provided for both the DSFRS and the airport fire team.
"We have a very good relationship with the Devon & Somerset Fire & Rescue Service, and see this as a milestone initiative within the UK Fire Rescue Services which will take the training facilities at the airport to a new level."
The site will also accommodate an emergency command unit, welfare facilities, lecture theatres and general administration. Interserve Construction are the main contractors and it is hoped that the new facility will be completed in Spring 2013.
Chief Fire Officer Lee Howell, of Devon & Somerset Fire & Rescue Service, said: "The new facilities will improve airport and local authority firefighter training and the safety of the public. Professional training is a priority for the Service and this centre will provide us and the airport with an enhanced capability.
"Our Breathing Apparatus instructors are highly-regarded on a national level and we will continue to train firefighters from all over the country and Europe through our Training Academy. We have a national and international reputation and our courses are accredited and quality assured."
Devon & Somerset Fire & Rescue Service already has a base at the airport, which was established in 2000, but the new investment will represent a major enhancement of those facilities.