Two premiership rugby players have played their part in the official opening of the new Fed & Watered restaurant at Exeter Airport.
The new catering contract was awarded to The Mount Charles Group and following their £250,000 investment in a refurbishment programme, Kevin Barrett and Matt Jess from the Exeter Chiefs helped kick off the new catering facilities which include the Fed & Watered bistro brand along with a further two cafés.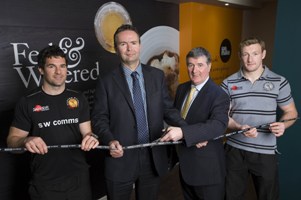 The contract worth in excess of £10 million started last month when The Mount Charles Group was appointed sole food and beverages provider at the airport.  Passengers are now presented with striking new surroundings and an enhanced menu offering regional fare including West Country Beef, Devon cheese and cream.
Matt Roach, Managing Director of Exeter Airport commented; "I have been extremely impressed with the enthusiasm shown by the new Mount Charles team and we are looking forward to a very successful long term relationship.
The roll out of the third Fed & Watered bistro in the last 12 months by Northern Ireland based company, The Mount Charles Group, is the Group's first outlet in England and follows the opening of the brand at Belfast International Airport.
Managing Director of The Mount Charles Group Trevor Annon said; "We have an exciting opportunity to improve the catering outlets at Exeter Airport and it is very rewarding to have secured the contract after a highly competitive process.
"It was always an important part of our strategic plan to diversify into new markets and Exeter offers us huge potential in terms of growing the Fed & Watered brand. This tremendous gain will now open up opportunities for us to develop services within the regional airport market throughout the UK.