A shared cycle and footpath route through an airport car park, which is part of an £85,000 to provide a safe route, was officially opened on Wednesday 25 April.
The 900 metre route is from the roundabout off the A30 to the main entrance of Exeter Airport, and the existing signal controlled crossing on the B3184 near the main entrance to the airport has also been widened to accommodate cycle use.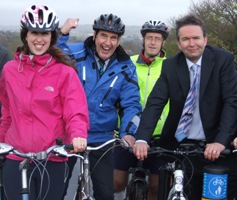 Exeter Airport's managing director, Matt Roach, said: "Although we welcome passengers who wish to cycle to the airport, the route will be mainly used by those commuting to and from work. Until now cyclists using the B3184 between the A30 and airport have had to share the narrow road with cars and lorries, so I am very pleased that we have been able to play a part in making the journey safer."
The route forms part of the Local Transport Plan for the area and connects to the existing shared cycle and footways which lead on to the Business Park. It also links back to Exeter via Clyst Honiton and the recently opened Redhayes Bridge. New routes are also currently underway to Cranbrook and Exeter Science Park.
Councillor Stuart Hughes, Devon County Council Cabinet Member for Highways and Transportation, said: "This path will provide a much safer route to the Airport for cyclists and pedestrians, giving people the choice to make short journeys without their car. It is another piece in the jigsaw of our extensive walking and cycling network that's being developed as part of the Exeter and East Devon Growth Point. I'm sure it will be particularly useful to staff at the Airport, the Business Park as well as the developments which are currently underway in the Exeter and East Devon Growth Point."
Flybe, which has its headquarters at the airport, operates a scheme that encourages its staff to cycle to work.  A significant number of its 1,000-plus staff regularly cycle to and from work, many of them year-round.
Flybe's Director of HR and intrepid cycle-commuter, Simon Charles, says the new cycle-way is an "absolute delight" and one that will be well-used by staff.
"This short part of our journey along such a heavily used country lane has always been extremely difficult and all of us who cycle would like to thank all those involved for providing this new much-needed, safer cycle route," he said.
Councillor Peter Bowden, local county councillor for Broadclyst and Whimple, said: "I know for a fact that many cyclists and pedestrians are delighted that this route is open and that their safe passage to and from work will be improved."