Exeter Airport's new route to London started this morning (Monday 27 October 2014) when the first flight to London City Airport pushed back at just after 6:30am. The launch of the new link, operated by Flybe, significantly boosts connectivity for the South West Peninsula and provides a direct link into the heart of the city's financial district.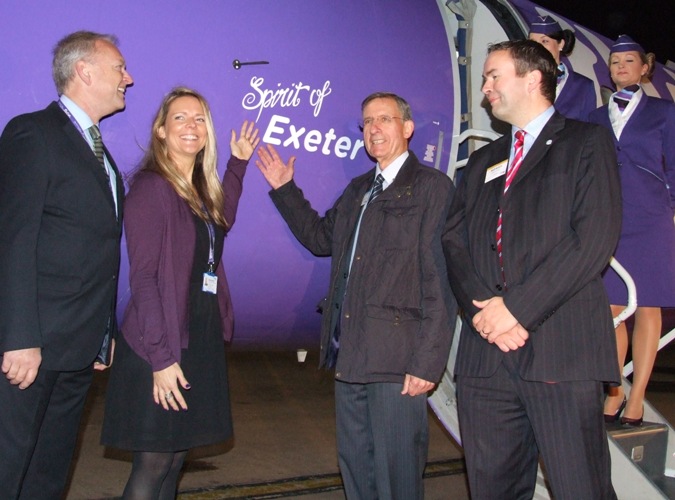 The inaugural flight was preceded by a plane naming ceremony attended by Paul Willoughby and Annelie Carver from Flybe together The Lord-Lieutenant of Devon,  Sir Eric Dancer and Matt Roach, Exeter Airport's managing director, who went on to say: "We see this route as vitally important to the connectivity of the South West Peninsula and think it is great news for the whole region.
Mr Roach continued: "To demonstrate the airport's commitment to the route, we are investing half a million pounds in a new security area to provide a fast track security facility that will ensure the quickest possible transit for passengers through the Airport terminal. This coupled with enhanced car parking next to the Airport terminal will greatly reduce the time needed for passengers to arrive at the Airport ahead of their flights."
The Exeter-based airline will offer an up to 'three times daily' service and the new schedule, with a flight time of just 70 minutes, will see the first flight arrive at London City before the first commuter train into Paddington.
Speaking at today's event, Sir Eric Dancer, HM Lord-Lieutenant of Devon, said:  "I very much welcome the introduction of the new service to London City Airport. I am sure it will be another strong boost to the economy of this region."
London City Airport is conveniently located in the heart of the financial capital with Docklands Light Railway connections every ten minutes, so passengers can be in Canary Wharf in just 12 minutes.
One way fares from Exeter including taxes and charges start from £34.99 and are on sale now at flybe.com
Exeter Airport's owner Sir Peter Rigby, said: "This route announcement further cements Exeter Airport's vital role in connecting the heart of the South West and driving the regional economy. The link to London City in particular is a hugely welcome development, especially following the disruption we have seen to the rail network, and we know the ability to connect swiftly into the heart of London will be warmly received by the business community."