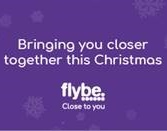 Flybe is connecting family and friends and 'Bringing you closer together this Christmas'
Flybe is gearing up for a busy festive holiday period which includes a boost to its winter schedule with extra Exeter flights to meet demand on seven popular routes – Belfast City, Dublin, Edinburgh, Glasgow, Manchester, Newcastle and Paris. .
Flybe, Europe's largest regional airline, will operate 426 flights to and from Exeter over the 14-day holiday period (21st Dec 2018 – 3rd January 2019) with Saturday 22nd the busiest day as people head off to enjoy seasonal celebrations. Sun and ski routes to Alicante, Faro, Malaga and Chambery are also heavily booked through to 5th January
Many passengers are taking advantage of having a wide choice of convenient codeshare connections to then travel on to long haul destinations from many of the main international hub airports served by Flybe such as via Manchester to New York, Abu Dhabi and St Petersburg; or via Paris Charles de Gaulle to Tel Aviv, Zurich, Panama and Johannesburg, all on one convenient seamless booking.
• Extra flights on seven popular routes give seasonal boost through to early January
• Operating 426 flights to and from Exeter over festive season
• Busiest day Saturday 22nd December
• Manchester is busiest route from Exeter
Roy Kinnear, Flybe's Chief Commercial Officer comments: "We are pleased to offer our Exeter customers this added choice over the busy festive period when they are looking forward to connecting with family and friends at this special time of the year. We would also thank all those who flew with us this year and look forward to welcoming them on board again in 2019."