First Route for Regional Air Connectivity Fund
The first new route to be operated under the Government's Regional Air Connectivity Fund launches today with the start of Flybe flights between Exeter and Norwich airports.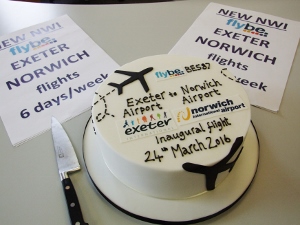 Fares start from just £17.49 one-way including taxes and charges, and with a flight time of just over an hour saves around four hours on the equivalent journey made by road or rail. Bookings can be made at Flybe.com
The Government's Regional Air Connectivity Fund was launched last year as a way of encouraging new routes to and from UK regional airports and improving connectivity for business and leisure travellers. Flybe was successful in securing a number of these, including Exeter to Norwich which is the first to start operating.
Matt Roach, Managing Director at Exeter Airport, said: "This is a UK first for Exeter Airport and further evidence of our growing route network. Travelling to Norwich by train or car can take around five hours so we expect this new service to be popular with business and leisure passengers. Norwich Airport is just two and half miles from the city of Norwich and the gateway to the coastline and countryside of Norfolk."
This week will also see the resumption of Exeter's scheduled sunshine services to the Spanish resorts of Alicante, Malaga and Palma, and Faro in Portugal. And thanks to an innovative partnership between Flybe and Regional & City Airports (RCA), which owns Exeter and Norwich airports, the Alicante and Malaga flights will be extended year-round using one of Flybe's E195 118-seater jet aircraft.
Andrew Bell, Chief Operating Officer for RCA, the airport management division of Rigby Group PLC, said: "Regional airports perform a critical role connecting the people and businesses of the UK and we are delighted that the first UK route under the Government's Regional Air Connectivity Fund is linking two of RCA's airports. Our growing partnership with Flybe is further cemented by our securing and expanding sunshine flights and demonstrates our commitment to keeping our regions connected."
Amy Valcik, Flybe's Chief Marketing Officer added: "Flybe delivers unrivalled regional connectivity between the UK regions and we recognise that time is precious for our customers. So we are thrilled that, as a result of our new relationship with the Rigby Group, we have been able to greatly improve the travel options between Exeter and Norwich, by offering 'the fastest way from A to Flybe'. We are also delighted that, as a result of this partnership, we are now offering year-round flights from Exeter on our popular sun routes and look forward to welcoming all our new passengers on board."