The Royal British Legion – Poppy Appeal presented Exeter Airport with a certificate on 9 February in appreciation and recognition of their continued and wholehearted support of the Poppy Appeal.  In 2008 the airport staff and visitors raised £734.84 and on the eleventh day, in the eleventh month and at the eleventh hour, the airport staff fall silent and their PA system plays the Last Post.
Matt Roach accepted the certificate on behalf of the airport from  Ralph Howard-Williams.
The Royal British Legion is the UK's leading charity providing financial, social and emotional support to millions who have served or are currently serving in the Armed Forces, and their dependants.   Nearly 10.5 million people are eligible for our help, and the call on our welfare services is increasing. The Legion is also the custodian of Remembrance, which has been observed since the end of the First World War.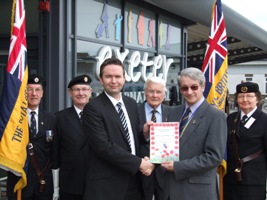 With troops on duty in Iraq, Afghanistan and other trouble spots around the world, Remembrance Day and the Two Minute Silence are as important as ever.
The RBL is indebted to Exeter Airport for their fund raising efforts.  To date the total raised in Devon for the Poppy Appeal 2008 is £779.116.22 and rising and the national total is £26 m.  Although fund raising events are held throughout the year, the Poppy Appeal only runs for approx. two weeks of the year when poppy boxes are placed in areas such as airports.